Background
The cornerstone to Gilead's (GILD) $11.9 Billion acquisition of Kite (KITE) is its lead product axicabtagene ciloleucel/KTE-C19 (Axi-Cel) that targets the CD19 antigen. It is currently in development to treat a range of B-cell Lymphomas and Leukemias with a pending FDA application for approval in relapsed-refractory DLBCL (Diffuse Large B-Cell Lymphoma).
Kite' CAR T Pipeline:

Axi-Cel is in a new class of therapeutics called Chimeric Antigen Receptor engineered T-cell or CAR T. CAR T is a type of immune cell that has been engineered to add an antibody and co-stimulatory domains. This in essence "programs" the T-cell to recognize cancer cells that express an antigen on the cell surface that matches the new added antibody. When the CAR T cell finds the matching antigen, it binds to the cell and triggers an immune response to destroy the cancer cells. Essentially, the concept is to reprogram one's immune system to identify and kill cancer cells that express certain proteins. The concept for a CAR T-Cell may seem new but has actually been in the works for nearly 30 years. The concept did not become viable until the relatively recent introduction of a co-stimulatory domain to the T-Cell that helps induce an immune response when it binds to its target.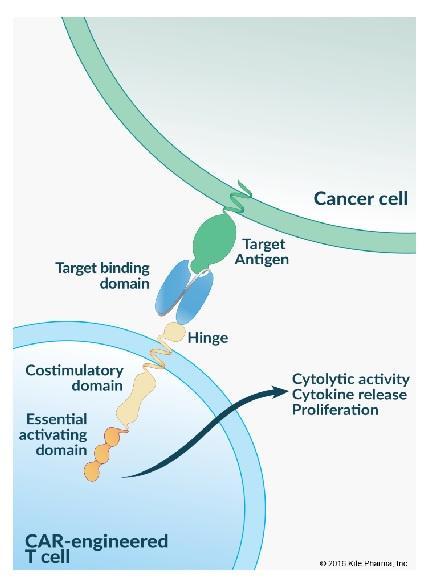 CD19 is one such protein that is found only on the surface of B-cells (another type of immune cell) and is the most advanced and promising target being addressed with CAR T therapy. CD19 is an excellent target as it is unique to B-Cells which limits the risk of the T-Cells attacking other healthy cells. Since CD19 is universal to B-Cells, it has potential application in a number of different Leukemias and Lymphomas that involve malignant B-cells.
CAR T is a novel type of autologous therapy that requires a number of steps in the process to manufacture that includes: collecting the patient's white blood cells, isolation, and "reprogramming" of the T-cells, and then re-infusing the new cells back into the patient.

What is the current state of CD19 CAR-T?
There are currently a number of companies competing in the CD19 CAR T space. The most clinically advanced programs are from Novartis (NVS), Juno (JUNO), and Kite (KITE) while there are many others in development, including Bellicum (BLCM) and Cellectis (CLLS), to name a few. Although they are all focused on the same CD19 target, the approaches are all slightly different using a range of technologies to transfect the T-cells (lentivirus, retrovirus), CD19 antibodies (murine vs. humanized), co-stimulatory domains (CD28, 4-1bb), manufacturing processes and preconditioning regimens.
The results for the most advanced products have been very impressive across a range of B-Cell Lymphomas and Leukemias. At ASH two years ago, Novartis announced a 93% response rate for CTL019 in relapsed/refractory (r/r) pediatric Acute Lymphoblastic Leukemia [ALL]. Similarly, Juno reports 82% response rate for JCAR015 in r/r adult ALL and Kite re cently reported 76% response rate for KTE019 in r/r Diffuse Large B-Cell Lymphoma (DLBCL). These results are impressive, given they are all in patients who relapsed or are refractory to available therapies and have limited options. To put into context, a retrospective study by Kite suggests the life expectancy for relapsed/refractory DLBCL patients to be just 6.6 months.
Despite the increased safety issues with Juno's earlier stage program JCAR0015, the data for the three market leaders Kite, Juno, and Novartis have all been roughly similar.
Comparison of Best Response in Aggressive Non-Hodgkin's Lymphomas:
| | | | | |
| --- | --- | --- | --- | --- |
| Company | Product | ORR | CR | Source |
| Kite | Axi-Cel | 82% | 54% | ZUMA-1 Feb. 28, 2017 |
| Juno | JCAR017 | 76% | 52% | Transcend June 5, 2017 |
| Novartis | CTL091 | 59% | 43% | Juliet June 7, 2017 |
Despite the positive data to date, CD19 CAR-T still faces two key challenges: managing toxicity related to cytokine release syndrome (CRS) and the durability of responses.
CD19 CAR T is associated with severe side effects, mostly in the form of neurotoxicity and cytokine release syndrome that are believed to be related to the immune response triggered by the therapy. Although these side effects are typically manageable and transient, there have been several patient deaths potentially attributed to CRS. Juno previously had its JCAR0015 program put on a temporary clinical hold after several patient deaths using a new preconditioning regimen. Kite has also observed several patient deaths to date in its DLBCL trial.
Durability of responses has also been an issue. The impressive best overall responses of 70-90% response rates reported above by Novartis, Juno, and Kite have all been cut roughly in half over time as many patients see their disease quickly relapse. Despite a high rate of initial relapses, typically 30-50% of patients have their disease remain in remission long term with many early treated patients remaining disease free for years.
What is the current market opportunity?
CD19 is an antigen that is expressed only on B-Cells that limits CD19 CAR T therapies to certain for ms of Leukemia and Lymphoma that involve B-Cells. The most common forms being investigated in clinical trials include Diffuse Large B-Cell Lymphoma (DLBCL), Acute Lymphoblastic Leukemia, and Chronic Lymphoblastic Leukemia (CLL). Annual incidence for DLBCL (36,000), ALL (7,400) and CLL (20,300) totals ~64,000 patients in the US. Assuming treatment cost at $300,000, the US market opportunity, as a first line therapy in newly diagnosed patients, is ~$19.2 Billion. For the key markets in Europe, I assume the patient populations are roughly equal to the US.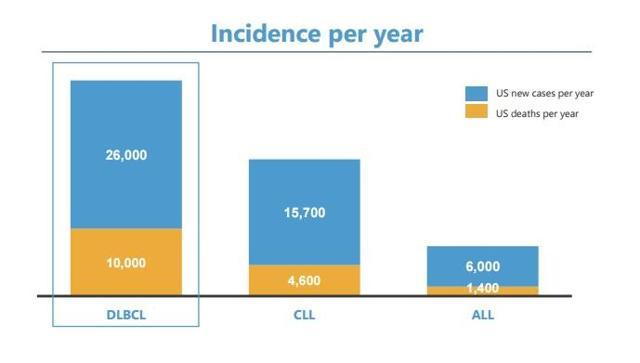 As is typical in oncology, current trials are investigating use late stage patients who are Relapsed/Refractory (rel/ref) to currently available therapies (e.g. chemotherapy and/or stem cell transplant). An estimate of relapsed/refractory patients based on annual patient deaths is DLBCL (10,000), ALL (1,400), and CLL (4,600), which totals ~16,000 patients in the US. Assuming treatment cost at $300,000, the US market opportunity in relapsed/refractory patients is ~$4.8 Billion or about a quarter that of the newly diagnosed market.
What are potential expansion opportunities?
There are two options to expand the market for this technology:
1. Move into earlier use in CD-19 B-Cell Cancers
2. Move into Solid Tumors and Other non CD-19 B-Cell Cancers
Option #1: Move into earlier use in CD-19 B-Cell Cancers
While the results in the relapsed/refractory setting are clearly impressive, it isn't clear if it will be good enough to be competitive against the current standard of care in the newly diagnosed first line (chemotherapy) or second line (chemo +/- stem cell transplant) settings. Results vary by Leukemia-Lymphoma subtype, but first line chemotherapy in newly diagnosed patients is quite effective. Long-term remissions rates of ~50% are seen in patients with aggressive forms like DLBCL and higher rates in less aggressive forms like CLL are achieved at much lower cost and reduced risk of mortality than current CAR T therapies. This sets a fairly high bar for CAR T to overcome. In the second line setting chemotherapy +/- stem cell transplant is often the standard of care with roughly ~50% chance at durable remissions. However, stem cell transplants are expensive potentially costing close to $500,000, and many patients aren't candidates due to high risk of mortality. This is a setting where KITE is investigating use of Axi-Cel in the ZUMA-7 trial. If proven to be superior, it could open the door to potentially inc rease the addressable market to by another 5,000-10,000 patients. To date, the results with CAR T appear roughly similar in response rates, mortality risk, and cost to stem cell transplant. However, it will likely take time and/or clearly superior results to displace the established standard of care.
Option #2: Move into Solid Tumors and Other non CD-19 B-Cell Cancers
In addition to CD19, there are a range of other potential intra- and extra-cellular cancer targets across a range of both liquid and solid tumors (e.g. BCMA, ROR-1, CD22, WT-1, L1CAM, MUC16, KRAS, HPV-16, NY-ESO-1, SSX2, MAGE A3, others) that are being investigated for treatment with CAR T (or a related TCR technology that targets intracellular vs. CAR T targeting extracellular proteins).
Kite's TCR Pipeline:

To date, these programs are all early in development with limited data making it difficult to value. The most promising is bluebird bio (BLUE) that has reported high initial responses with its Anti-BCMA in Multiple Myeloma that are similar to those seen in CD-19 Lymphomas. However, at this point, the data is early, and it is not clear if they will see a similar rate of relapse like with the CD19 CAR T products. We will likely have a better sense of the longer term durability at the ASH conference in December.
Data on other targets against solid tumors to date have not been able to duplicate the success of CD19. For example, the NCI reported only 1 Complete Response and 3 Partial Responses out of 17 patients in a recent publication against the MAGE A3 target in solid tumors (this is the basis for KITE-718). While good for an early stage study, it is nowhere near the 40% long-term complete response rates seen with CD 19 CAR T.
Solid tumors are likely to pr esent a number of challenges. The first is finding targets that are only found on cancer cells so that the immune system doesn't also attack normal healthy cells. Second is the solid tumors appear to be more challenging since they appear better able to inhibit an immune response. This is where companies like Merck (NYSE:MRK) and BMS (NYSE:BMY) have had success with checkpoint inhibitors to turn off this immune inhibition. Merck has seen tremendous commercial success with Keytruda since it can be used in across all patients in a range of tumor types. In contrast, from a commercial perspective, CAR T and TCRs against solid tumors tend to be only over-expressed with a limited subset of patients within a certain tumor type. Therefore, unlike Keytruda, the market opportunity may more likely resemble targeted therapies like EGFR and ALK that are limited to use a subset of patients with NSCLC.
What are the possible outcomes?
The data in CD19 Lymphomas (DLBCL, ALL, CLL, etc.) is clearly impressive, and I believe that KITE's Axi-Cel will be approved in the relapsed-refractory setting across a range of CD19 cancers. I believe they will also be approved in the EU, which would roughly double the annual addressable patient population to 32,000. Since there are currently three key players competing with variations on the same technology that have all generated fairly similar results to date, it seems logical that we will ultimately see KITE, JUNO, Novartis (and likely others) also with approved products and competing for the same pool of patients. Therefore, I think in a competitive market, KITE should be able to maintain long-term 20-40% market share within this market. Novartis recently announced pricing for its CD19 CAR T of $475,000 in pediatric ALL. I believe that pricing will come down as competition increases and as use is expanded into more price sensitive Med icare and ex-US markets. I assume a long-term price of $300,000 per patient with 25% COGS to reflect rebates, patient assistance, manufacturing, and distribution.
The potential upsides are if they can move to treat CD19 Lympohomas and Leukemias earlier than the relapsed-refractory setting and/or if they can expand the technology into other cancers like Multiple Myeloma and/or Solid Tumors. With limited data to date, this is much more difficult to model out. Therefore, I'm making a blanket assumption that they can double the addressable patient population at a similar market share as in CD19 Lymphomas.
Best Case Scenario:
For the best case scenario, I assumed a 2018 US and EU launches and that KITE captures and maintains 40% of the 32,000 rel/ref patients with DLBCL, ALL, and CLL. Further, I assumed a doubling of the addressable patient population in 2021 to reflect either use in solid tumors and/or ability to address earlier stage patients with CD19 B-ce ll cancers I assumed pricing at $300,000 a patient with 25% of sales going to COGS, patient assistance, etc. and $400 Million in annual net expenses for R&D, CapEx, etc. Applying a 35% tax rate, 6% discount rate, and 20% terminal value yields a current valuation of KITE at $17.4 Billion.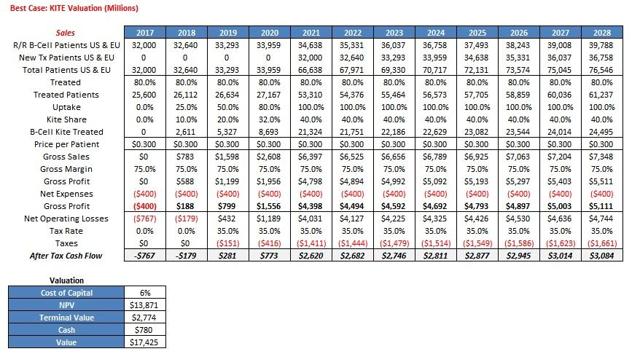 Base Case Scenario:
For the base case scenario, I assumed a 2018 US and EU launches and that KITE captures and maintains 40% of the 32,000 rel/ref patients with DLBCL, ALL, and CLL. I assumed pricing at $300,000 a patient with 25% of sales going to COGS, patient assistance, etc. and $400 Million in annual net expenses. Applying a 35% tax rate, 6% discount rate, and 20% terminal value yields a current valuation of KITE at $8.0 Billion.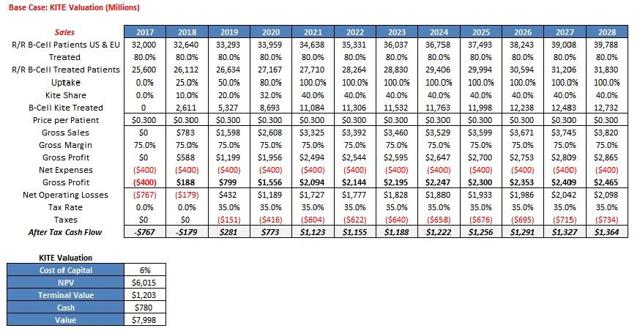 Worst Case Scenario:
For the worst case scenario, I assumed a 2018 US and EU launches and that KITE captures and maintains 20% of the 32,000 r/r patients with DLBCL, ALL, and CLL. I assumed pricing at $300,000 a patient with 25% of sales going to COGS, patient assistance, etc. and $400 Million in annual net expenses. Applying a 35% tax rate, 6% discount rate, and 20% terminal value yields a current valuation of KITE at $1.5 Billion.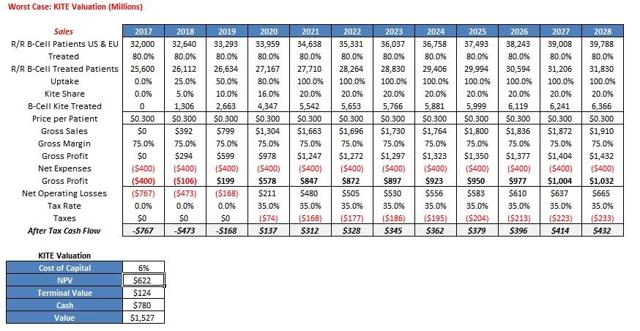 Was this a good deal?
If I assign equal probabilities of success to each of the above scenarios, I obtain a valuation of $9.0 Billion. Based on this and my base case scenario, I believe the fair acquisition value for Kite is in the $8-9 Billion range. The $11.9 Billion that Gilead is paying is roughly equivalent to the announced 29% deal premium.

Assuming a more normal 10% cost of capital, that better reflects what a company like Kite could expect, the valuation is nearly cut in half. I see this as a win for Kite shareholders as they are able to get nearly a 100% premium over what I estimate is the value as a standalone company at $6-6.5 Billion.

Based on my scenarios and valuations, I think that Gilead got an "okay" deal for KITE, but one with significant upside and downside potential.
To make the deal work, Gilead will need to make sure it can continue to execute and maintain its leadership position long term in relapsed-refractory CD19 cancers (my base case). In my opinion, this will require staying ahead of Novartis, Juno, and others with next generation 2.0, 3.0 etc. versions of Axi-Cel. I definitely think this is possible, but given the level of competition, I don't think it will be easy either. If they fail to execute on Axi-Cel and/or the next generation versions of Axi-Cel, then this deal has the potential to be a bust (my worst case).
On the flip side, there is also potential for significant upside that does exist if they can expand the market beyond relapsed-refractory CD19 malignancies. I think that displacing first line chemotherapy in CD19 patients will be very difficult. Second lin e stem cell transplant is possible but will be risky and require much more robust trials to displace than in the relapsed-refractory setting where there is no established standard of care. Expanding the technology beyond CD-19 into other targets like anti-BCMA and solid tumors is also possible, but, as I outlined above, the pathway to get there has yet to be clearly established.
In fairness, Gilead has grown so large from a revenue perspective that the number of available deals like this with the ability to "move the needle" is quite limited. My guess is that a similar analysis on other rumored potential Gilead acquisition targets (e.g. Incyte (INCY) and Tesaro (TSRO)) likely had a similar or likely worse downside risk-reward element to them. In addition, with the need for a transformative deal, paying a 30% premium can be chalked up as simply the cost of doing business.
Conclusions:
KITE's CAR T technology is a promising technology with potential in CD-19 Lymphomas and Leukemias and potentially beyond. Paying nearly $12 Billion, Gilead is paying a decent premium to acquire Kite with the potential for significant upside-downside. However, it can make this deal work by leveraging access to lower cost capital and continuing to maintain the long-term leadership position that Kite has established. The deal is a win for Kite shareholders who ap pear to capture a significant premium relative to their current value as a standalone company.
Disclosure: I am/we are long KITE.
I wrote this article myself, and it expresses my own opinions. I am not receiving compensation for it (other than from Seeking Alpha). I have no business relationship with any company whose stock is mentioned in this article.
About this article:ExpandAuthor payment: $35 + $0.01/page view. Authors of PRO articles receive a minimum guaranteed payment of $150-500.Tagged: Investing Ideas, Long Ideas, Healthcare, BiotechnologyWant to share your opinion on this article? Add a comment.Disagree with this article? Submit your own.To report a factual error in this article, click here