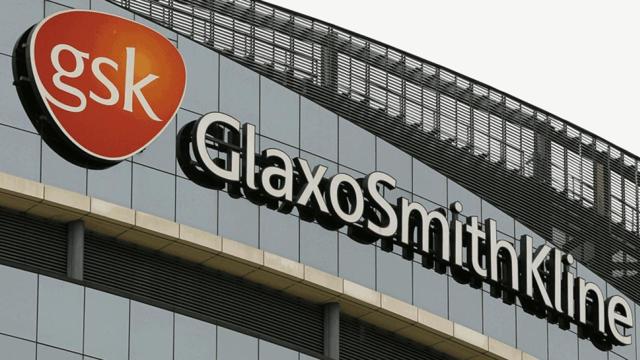 With a 4.56% annual dividend yield, GlaxoSmithKline (NYSE:GSK) is widely held by many dividend oriented investors. GSK is actually coming off an excellent Q1 2017, which showed a 5% year-over-year increase in sales assuming constant exchange rates. With that being said, I believe GSK is a particularly risky bet for the following 3 reasons:
1. GSK's Dividend is in Unsustainable Territory
Over the last 4 years, GSK has not produced enough cumulative free cash flow to support their dividend payment. This problem isn't all that uncommon. Many companies aggressively increase their dividends during boom years, which leaves them in a difficult position during hard times. While GSK's shortfall has only been approximately 2.5 billion pounds over that period, it's still very concerning. GSK has had to tap cash reserves and increase debt to make up the difference. There is nothing I hate more than a company financing dividend payments.
All data provided from Google Finance.
GSK is now in a position where they are a slave to their dividend payment. This can become toxic and influence many decisions at the board level and is a major contributing factor to GSK's next two big problems. The prudent thing to do would be to cut the dividend to a sustainable level. In general, I like to see payout ratios no more than 70% of free cash flow. I don't believe GSK will do this, big dividend cuts can cause a negative reaction from the market, so companies often do everything they can to not do this.
2. R&D Expenditures Lag Peers
GSK has been skimping on R&D spend for the last couple of years, which has averaged approximately 13% of sales. Many other large-cap pharmaceutical companies dedicated close to 20% (or more) of sales on R&D. This is a trend that will catch up with GSK over time and will likely negatively effect their clinical pipeline in the future.

3. GSK is Over-Leveraged
Out of large-cap international peers, GSK's balance sheet is in the 2nd worst position, only behind AstraZeneca (NYSE:AZN). Not only is GSK in a negative net cash position, but their debt also comprises a large percentage of their annual revenue. GSK's hefty dividend payments will also make it hard to deleverage and, if anything, will probably cause them to add debt in the future.

Conclusion
These 3 points all have one thing in a common, they will directly effect GSK's ability to replenish their clinical pipeline. Since drugs don't have indefinite lifespans, keeping a strong clinical pipeline is the most important thing for a pharmaceutical company's future success. GSK's high dividend payout ratio is keeping them from building cash reserves and deleveraging. The lack of available cash flow could also be what's resulting in a smaller spend on R&D compared to peers Lastly, many pharmaceutical companies will supplement their internal R&D by making acquisitions. I believe GSK's leveraged balance sheet will keep them from making any medium or large-sized transactions. GSK is performing decently at the moment, but I believe these 3 factors will catch up with them in the long-run and cause the stock to underperform. GSK's stock has increased 15% year to date, so now is a good time to sell.
Disclosure: I/we have no positions in any stocks mentioned, and no plans to initiate any positions within the next 72 hours.
I wrote this article myself, and it expresses my own opinions. I am not receiving compensation for it (other than from Seeking Alpha). I have no business relationship with any company whose stock is mentioned in this article.
About this article:ExpandAuthor payment: $35 + $0.01/page view. Authors of PRO articles receive a minimum guaranteed payment of $150-500.Tagged: Investing Ideas, Quick Picks & Lists, Healthcare, Drug Manufacturers – Major, United KingdomWant to share your opinion on this article? Add a comment.Disagree with this article? Submit your own.To report a factual error in this article, click hereFollow Robert Riesen and get email alerts