Amazon (AMZN) is the master of everything. They own the retail space, are a dominant force in data storage, have hits in hardware and are quietly a logistics master. But the real prize — and its not AWS — it is Prime. Thats what could make Whole Foods interesting — effectively turning it into a Costco (COST) like membership model. For an activist investor, the allure is getting Amazon to actually make money off the massive Millennial user base it has.
The Amazon app is the one app that Millennials cant live without, topping Snapchat (SNAP), Facebooks Instagram (FB), Googles (GOOGL) (NASDAQ:GOOG) Gmail. One-third of those in a ComScore survey (aged 18-34) said they cant go without Amazon.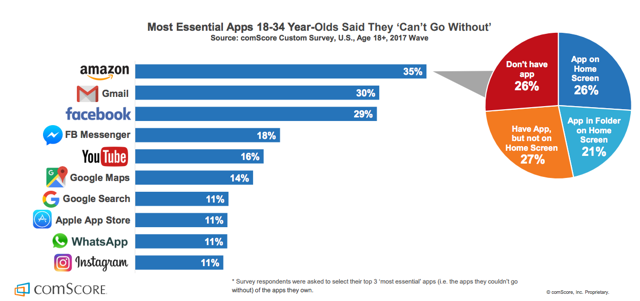 The activist bet is that they can out maneuver Jeff Bezos.
An activist investor could help Amazon focus on profits and businesses that actually make money. However, that might do more harm than good — with Amazon losing its moonshot status. Any acquisitions that Amazon makes is strategic these days, whether it be a grocery store — Whole Foods (WFM) — or live-stream gaming — Twitch. No industry is safe.
Now, Amazon has an underrated opportunity in the grocery business. For now, itd behoove of activist and investors to see what Bezos can do on his own. He recognizes that online grocery sales are small, but growing fast. And the average online transaction for groceries is $148 – well above the $35 average for in-store purchases.
If Amazon can work on perfecting grocery delivery it would have a first-mover advantage on an underrated market. I already noticed that on the Amazon Prime Now app (delivery in two hours or less) that it s offering delivery of certain Whole Foods goods — no produce and nothing cold/frozen.
Groceries is one area I think Amazon can win with cross-selling its vast online store products and using in-store pickup at Whole Foods locations. The Amazon Go concept with uses sensors and cameras to provide a seamless shopping experience with simply grab and go groceries. This could be its new AWS business, which helped push the stock to $1,000. However, I think Amazon is at an impasse. To truly go deep into groceries, theyll have to decide to be an e-commerce player and try to be a first mover in grocery delivery. As well, it can use the 400+ Whole Foods locations as physical stores to upsell its own hardware (such as Echos) and to act as pickup locations. This could finally be Amazons path to capturing the retail industry. Sure it dominates online retail, but some 90% of retail sales are still done offline.
Of the 46 Wall Street analysts following Amazon, 87% are buy ratings. Its tough for an activist to get excited about a company that has such h igh hopes already. But what are these analysts betting on? Have they seen the great potential in blending online and offline retail? Probably not. But will an activist see the potential and push Amazon to invest more of its capital in its retail business and away from other moon shot businesses? Thats the hope, but the reality is that well have to rely on Bezos to recognize this opportunity on his own, as no activist is going to go head-to-head with Bezos. This retail/grocery opportunity could truly turn Amazon into the Apple of retail.
Disclosure: I/we have no positions in any stocks mentioned, and no plans to initiate any positions within the next 72 hours.
I wrote this article myself, and it expresses my own opinions. I am not receiving compensation for it (other than from Seeking Alpha). I have no business relationship with any company whose stock is mentioned in this article.
About this article:ExpandAuthor payment: $35 + $0.01/page view. Authors of PRO articles receive a minimum guaranteed payment of $150-500.Tagged: Investing Ideas, Long Ideas, TechnologyWant to share your opinion on this article? Add a comment.Disagree with this article? Submit your own.To report a factual error in this article, click here