Shutterstock
The suits at Merrill Lynch say you need $738,400 to retire well.
Let me explain why theyre dead wrong. Youll actually need a lot less than that.
Im going to show you a simple way to bankroll your golden years on 32% less. Thats right: Im talking about a fully paid for retirement for around $500,000.
Got more? Great. Ill show you how you can retire filthy rich on your current stake.
Plus my no-withdrawal portfolio will also let you live on dividends alonewithout selling a single stock to generate extra cash.
As Ive written before, this approach is a must if you want to safeguard your retirement from the next market calamity.
The Power of Monthly Dividends
While were at it, lets also set up a smooth income stream that rolls in every month, not every quarter like the dividends you get from most blue-chip stocks.
You probably know that its a pain to deal with payouts that roll in quarterly when our bills roll in monthly.
But convenience is far from the only benefit you get with monthly dividends. They also give you your cash fasterso you can reinvest it faster if you dont need income from your portfolio right away.
More on that a little further on. First I want to show you
How Not to Build a Solid Monthly Income Stream
When it comes to dividend investing, many first-level investors take themselves out of the game straight off the hop. Thats because they head straight to the list of Dividend Aristocratsthe S&P 500 companies that have hiked their payouts for 25 years or more.
That kind of dividend growth is impressive. And some of these names do have a place in your portfolioincluding 3 Aristocrats I pounded the table on in early June.
But heres the problem: these folks are forgetting that companies dont need a high dividend yield to join this cluband without a high, safe payout you can forget about generating a livable income stream on any reasonably sized nest egg.
Worse, you could be forced to sell stocks in retirementmaybe even into a 2008/09style nosedivejust to make ends meet.
Thats a nightmare for any retiree, and leaning too hard on the so-called Aristocrats can easily make it reality: the ProShares S&P 500 Dividend Aristocrats ETF (NOBL), which holds all 51 Aristocrats, yields a pathetic 1.9% as I write, exactly the same as the S&P 500 average!
Worse, that yield is in free-fall as stocks grind higher:
The Aristocrats (Not So) Incredible Shrinking Yield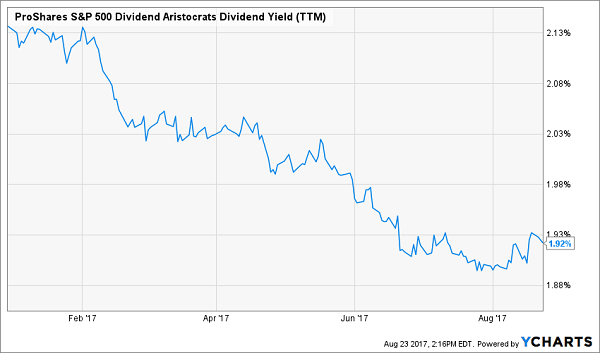 Solid Monthly Payers Are Rare Birds
You can certainly build your own monthly dividend portfolio, and the advantage of doing so is obvious: you can target companies that pay much more than your average Aristocrats paltry sub-2% payout.
Trouble is, only a handful of regular stocks pay in any frequency other than quarterly, so well have to patch together different payout schedules to make it happen.
To do that, Ive swung back to the Aristocrats, scanning for a combo of above-average yields and payout schedules that line up. Heres an instant 6-stock monthly dividend portfolio that fits the bill:
AT&T (T) and AbbVie (ABBV)two of the highest-yielding Aristocrats, with payouts of 5.2% and 3.6%, respectivelypay in February, May, August and November. Target (TGT) and Chevron (CVX), with payments in March, June, September and December. Sysco (SYY) and Wal-Mart Stores (WMT), with payments in January, April, July and October.
Heres what $500,000 evenly split across these six stocks would net you in dividend payouts over the next six months, based on current yields and rates: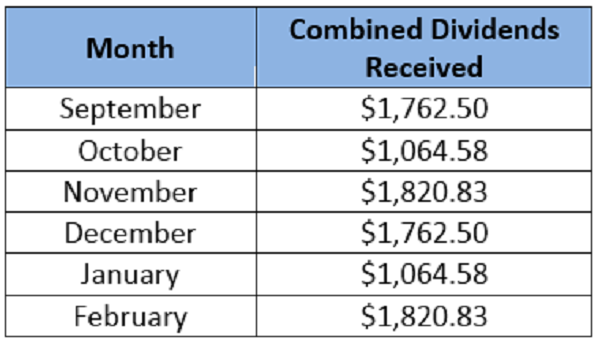 You can see the consistency starting to show up here, with payouts coming your way every single month, but they still vary widelysometimes by nearly $800 a month!
Of course, the bigger problem is that were pulling in just a 3.7% average yield, which will only get us to $18,600 in income on our $500,000 nest egg. Thats less than your local Starbucks barista makes!
We need to do better.
But It Pays to Own Them
Heres where you need to step away from regular stocks and fish in lesser-known corners of the marketplaces where high yields and monthly payouts abound.
One of my favorites? Real estate investment trusts (REITs) a special kind of company that owns rental propertieseverything from shopping malls to senior-care facilities.
Heres the upshot: the IRS lets REITs skip out on income taxes if they pay out most of their earnings as dividends. That means fatter dividend checks for you and me. Better yet, monthly payouts are more common in the REIT world.
So lets go ahead and build a monthly dividend REIT portfolio with 4 names that should be on any income hounds radar:
Industrial landlord STAG Industrial REIT (STAG), a 5.0% yielder I recommended on August 14. Long-term care facility owner LTC Properties (LTC), with a 4.8% payout. Apple Hospitality REIT (APLE) a hotel operator that pays 6.7%. EPR Properties (EPR), owner of theaters and entertainment complexes across the USand a fat 6.0% payout.
Heres what you could expect every single month for the next six months if you dropped $500k into these four, again based on current yields and rates: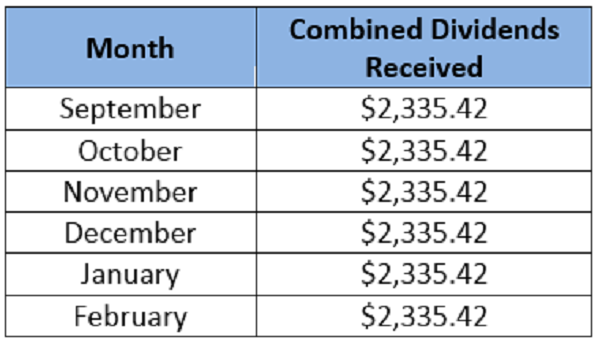 Thats as smooth an income stream as youll ever see! And its certainly better than our cobbled-together Aristocrat portfolio, getting us up to around $28,000 a year in income (or a 5.6% average yield) on our $500,000 cash pile.
Theres one problem, though: that $28,000 is still below the $40,000 or so most folks would need to retire on dividends alone.
Disclosure: none