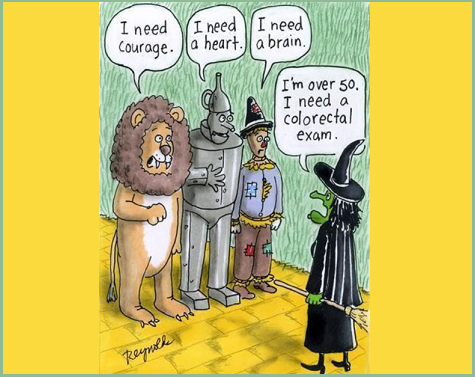 Description of the opportunity and investment thesis
CRHM represents a compelling risk/reward opportunity in the form of a rapidly growing leader in anesthesiology services for GIs in the US and Canada. We believe the company is undervalued on an absolute and relative basis, currently trading at a dramatically low multiple of current and future estimated free cash flow. Given the companys niche position in their market, stable business model, long runway for growth, and fears surrounding short-term operational results, we feel weve been provided with a solid margin of safety at current price levels, with the chance for 100% upside or more within 12-18 months.
CRH Medical Corporation (CRHM) is (the companys words) a North American company focused on providing gastroenterologists (GIs) with innovative services and products for the treatment of gastrointestinal (GI) diseases.
The primary reason for the current mispricing dates back to April 2017, when CMS (Center for Medicare and Medicaid Services) proposed rule changes that would affect both the companys payor mix (Federal versus Commercial) and reimbursement rates as they relate to administering certain endoscopic procedures.
The new billing codes (which we will discuss below) will have the net effect of decreasing the amount CRH will likely bill and collect for anesthesia services provided in conjunction with colonoscopy procedures, starting in Q1 2018.
Following this announcement, as well as managements guidance of a double-digit decline in adjusted EBITDA (and a 4%-5% decline in EBITDA margins), the companys share price collapsed from around $9.25 to $2.14, or more than 72% from April of 2017 to last month. Following the companys below average Q3 results, where anesthesia revenues declined slightly from Q2 due to issues surrounding payor mix (and not rate cuts) that the company believes are non-recurring, shares took yet another hit as of the first few weeks of November.
Source: Finviz
Shares currently trade at around $1.90 today, which is less than 6.0x current free cash flow (taking into account distributions to non-controlling interest), and less than 8x EV/EBITDA, providing investors with a significant margin of safety, given our estimates of future growth as well as peer/M&A multiples.
We appear to have reached maximum pessimism here, and view the extreme mispricing as unwarranted, given 3-year revenue and adjusted EBITDA growth north of 100%, stable and growing free cash flow, experienced long-term management, and the companys ability to be a first-mover on a large pipeline of strategic acquisitions that will meaningfully add to the companys bottom line.
Applying a very conservative 9x 10x multiple to the companys projected adjusted EBITDA for 2017 of around $30-32mm, OR projected FY 2017 free cash flow of around $21mm (a multiple we feel is low for a company that has grown free cash flow/share at a 118% CAGR over the last three years), we believe shares should trade in the range of $2.90 – $3.40 today, or a 50%+ premium to current prices.
This valuation doesnt include future growth prospects, additional acquisitions in the coming years, or recently announced share buybacks. We believe there is significant potential for 100% upside over the next 12-18 months, and given our cost basis of less than $2.00, we believe we have been provided a large margin of safety with little chance of permanent capital loss. We see shares trading in the $6 – $8 range by 2019-2020, with the same 10x multiple applied to our 2019 and 2020 estimates of free cash flow.
So why do we believe were right?
Our variant perception here lies in the following things:
The Street is pricing the shares as if lowered reimbursement rates will doom the company permanently. Even with lowered adjusted EBITDA as well as margins, the acquisition pipeline and free cash flow growth remain intact.
CEO Ed Wright came out and said that the company will continue to operate for the long term, and although CMS billing code changes will hurt EBITDA and patient billings in the short term (in a worst-case scenario, adjusted EBITDA drops 20%, and margins settle in at 43%) through 2018, the company isnt focused on short term results and will continue to operate the business as they have been, taking advantage of their strong acquisition pipeline. This company probably wont screen well. With a TTM P/E of around 19 and a P/Book of 2.0x, this doesnt look like a value investment on the surface. We believe these metrics to be the wrong way to value the business, and investors should instead focus on EV/EBITDA multiples for similar businesses and free cash flow per share, which has grown from $0.05/share in 2014 to $0.52/share for the trailing twelve months. The company is trading at less than 6.0x free cash flow after distributions to non-controlling interests Our time horizon is longer than most. We are willing to look past the near-term proposed CMS billing code changes, and let the business cycle run its course. We are confident in managements ability to allocate capital, earn mid-teens ROIC for the next 3-5 years, and benefit from strategic acquisitions. We are focused on 2019/2020 and beyond, not the next quarter or two. Fear seems overblown. Shares are down 75% since July, and price change seems to represent more fear and uncertainty than structural issues with the business or companys ability to execute their strategy. CRHM has a market cap of $133m today. This makes it tough for large funds to hold big positions, and perhaps restricts ownership for some bigger firms. Therefore, the company is under-followed. The company has experienced somewhat bumpy GAAP earnings from quarter to quarter. We have yet to see analysts pose questions regarding free cash flow/share, which is what we believe is the proper way to value the business. Due to the nature of acquisitions (dont happen in a linear fashion) and the percentage of non-controlling interest fluctuating, GAAP earnings will be volatile. We dont view this as concerning and will look to meaningfully add to our position whenever the market penalizes the company for missing on Q to Q GAAP earnings numbers. Again, due to our longer time horizon we expect to be rewarded by positive long-term results.
We believe that CRHM will continue to benefit from its early mover advantage and long held relationships with GIs dating back to the early 2000s. A long runway for growth and strategic acquisitions, coupled with continued patient and GI adoption of deep sedation during endoscopic procedures will drive further revenue, adjusted EBITDA and free cash flow growth. Margins will begin to climb post-2018. While the investment is not risk free, recent results and managements confidence in their acquisition pipeline offers further confidence that CRHM can continue to grow market share and compete favorably. The downside appears to be minimal here, and we are eagerly anticipating 2018 and 2019.
Overview of the business
CRH Medical Corporation is (the companys words) a North American company focused on providing gastroenterologists (GIs) with innovative services and products for the treatment of gastrointestinal (GI) diseases. In 2014, CRHM became a full-service GI anesthesia company that provides anesthesia services for patients undergoing endoscopic procedures in ambulatory surgical centers (ASCs). The company now serves 35 ASCs in seven states, and performs approximately 235,000 patient cases annually. The anesthesia services segment represents approximately 88% of the companys revenue.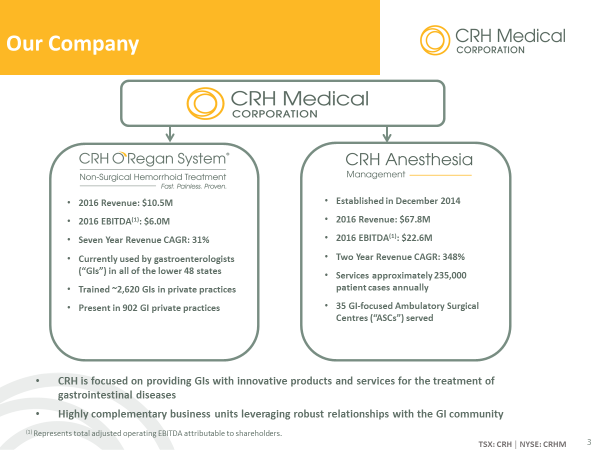 Source: 2017 Investor Presentation
In addition, the company provides hemorrhoid treatment services (their legacy business), via a proprietary product called The ORegan System, that is sold directly to physicians. ORegan is a single-use, disposable hemorrhoid banding technology that is safe and highly effective in treating hemorrhoids. This business segment is responsible for 12% of yearly revenue, and continues to grow at 8-10% per year.
Since making their first acquisition in 2014, the company has made 14 additional acquisitions to date, growing sales from $12 million in 2014 to $93 million for the trailing twelve months, and EBITDA from $2 million to $47 million during that same time period. Free cash flow has grown at a 118% CAGR during the last three years, and the company anticipates spending around $30-$35mm per year on acquisitions moving forward.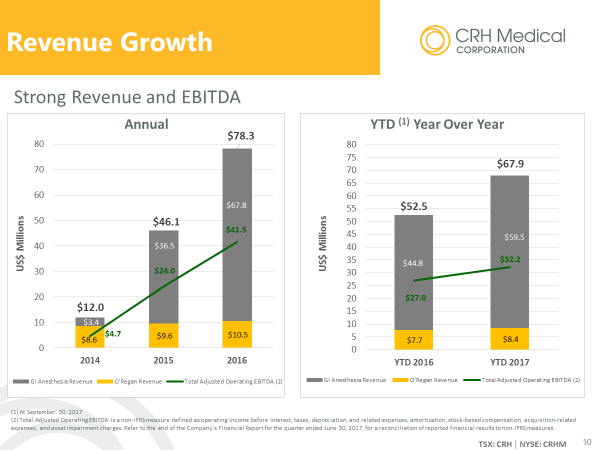 Source: Company Investor Presentation
Once in the door, CRHM signs long-term contracts with ASCs to provide anesthesia services, and functions as a complete turnkey package for these centers, providing operational, marketing, and billing expertise that helps GI doctors focus solely on medical care. As you can imagine, over time, this has created meaningful relationships with the doctors who run the ASCs.
Because the companys legacy business dates back to the early 2000s, CRHM has trained 2,620 physicians using the ORegan system, representing over 1,000 practices. This number is significant because it represents the companys potential acquisition pipeline moving forward. As of Q3 2017, with the exception of one group, all of the companys anesthesia acquisitions have been with current ORegan system customers.
These relationships, as well as being at the forefront of the continuing education of physicians regarding the use of deep sedation within their practices, is a small but unique competitive advantage that allows CRHM to be a first-mover of sorts when it comes to acquiring practices.
Organic anesthesia revenue is predicted to grow in the 3% – 7% range as patient volumes accelerate, and as acquisitions are made and practices integrated, revenue, EBITDA and free cash flow growth rates are expected to be in the mid to high teens.
Company background
The companys original business model was intended to be a type of retail format, where the group would buy space, open medical centers, and be responsible for filling them with doctors and patients who would use their product. This would be accomplished by marketing the ORegan System, targeting various GIs throughout the country, and pushing the product. The goal was to give doctors the education and support necessary to create a paradigm shift in the treatment of hemorrhoids.
CEO Edward Wright recognized the difficulty and costs associated with this structure, and engineered a pivot in the mid-2000s to more of a direct-to-physician model, where the product was sold directly to doctors and training was provided. CRHM would operate no clinics.
According to Edward Wright:
"The company, when I arrived, had a strategy to build clinics. We would hire doctors and staff and spend a substantial amount of money on marketing to drive patients to these clinics.
We were losing lots of money. It's expensive, we've got lots of costs. I very much had a mindset for retail and wholesale, and this is very much a retail model to me. All along I'm thinking, we've got an unbelievable device here, I would like to have more of a wholesale approach where we could put this in the hands of doctors who could use this with their patients."
"In moving forward with the direct-to-physician model, we identified gastroenterologists as suited for the CRH O'Regan system."
As a result of the pivot, CRHM spent over a decade servicing the GI community through the ORegan System, and developing relationships with their customers one by one. Given this background, CRHM was interested in finding other ways to service the GI doctors who served as their customers. After a comprehensive analysis of the GI market and industry trends, the company determined that providing anesthesia services was a good fit for their expertise, skill set and relationships.
As part of their analysis, management recognized that the GI community was developing a trend toward using deep sedation during endoscopic procedures, which plays to patient comfort and increased standard of care. In addition, the government started to recognize the importance of pre-screening for diseases, and developed an interest in increasing the access and standard of care for endoscopic procedures.
Given the companys meaningful relationships with GI providers around the country, CRHM put two and two together, and once again pivoted their business model. 2014 kicked off with the acquisition of one of the largest providers of anesthesia services to GIs in the US, Gastroenterology Anesthesia Associates LLC, or GAA.
Since 2014, the company has made 14 additional acquisitions representing 14 practices. Revenue has grown nearly 10x since 2014, and the company has proven this acquisition model successful in a short period of time.
EBITDA margins have been in the mid-to-high 40% range, and these anesthesia practice require practically zero additional capital to operate once acquired. What intrigues us the most about this model, is that CRHM has very few competitors, whether publicly traded or private. While there is plenty of dry powder available, and the amount of healthcare M&A has grown significantly in the last decade, CRHM operates in a small niche of the market where they have the potential to dominate.
The reasons for this are two-fold:
CRHM operates ASCs that only do GI procedures no surgeries, no special operations, only gastroenterology. This narrows their acquisition and operational focus, and allows them to cherry-pick the best deals out there The size of the acquisitions are unique to a company of CRHMs size. The largest acquisition to date (aside from GAA) has been $18 million, which is too small to move the needle for larger medical practices or hospitals, and wouldnt get private equity guys out of bed in the morning.
Although there will always be competition, especially given CRHMs positive operating results in such a short period of time, as of now the company can operate almost untouched and use their large relationship base to source deals and start partnerships.
Management believes the company is in its infancy in terms of the opportunities that lie ahead, and we strongly agree.
Business strategy
CRHMs goal is to establish itself as the premier provider of innovative products and essential services to GIs throughout the US. The company is aiming to consolidate the highly fragmented gastroenterology anesthesia services business.
CRHMs strategy is to use their existing relationships with GI doctors to gain a foot in the door with deep sedation, and demonstrate the value-add, while helping doctors monetize an additional area of their practice.
The company takes on cheap debt to acquire private anesthesia practices for less than 2.5x revenue and 4x 5x EBITDA. These practices are highly cash flow accretive, often within a quarter or two, and as mentioned above, require little further investment once up and running. To date, the company has been conservative in allocating capital for acquisitions, paying average acquisition prices of around 2.9x EV/Revenue and 3.9x EV/EBITDA.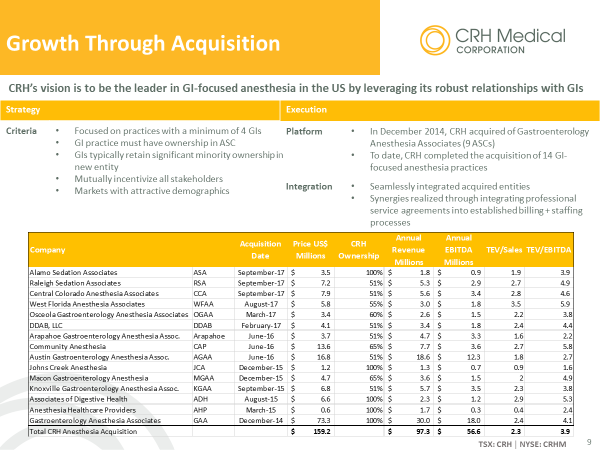 Source: Company Investor Presentation
In addition to the price, management has strict criteria when it comes to making an acquisition in terms of minority ownership, market demographics and ASC ownership, and will walk away if they feel a certain deal doesnt make sense for the company.
Once acquired, the company signs long term contracts with insurance providers to split the billings, with automatic escalators at 3%-7% each year. In addition, as CRHM grows in size, the effect that third-party payers have on negotiating favorable billing rates and collection will become more positive. Larger companies have better negotiating power, and can obtain more favorable contracts with ASCs and insurance providers.
The company will also be able to allocate labor and resources more efficiently than any individual practice. Competition to consolidate some of these groups, as well as decreasing reimbursement rates should over time, allow CRHM to grow larger, and start to feel the effects of positive operating leverage.
What we like about the business strategy is the predictable, recurring revenue nature of the anesthesia practices, and the barriers to entry for smaller players to compete with CRHM. Given a few hundred million dollars, it would be tough for competitors to displace the company, given their long-standing relationships with GIs, time it takes to educate and train the doctors, and ability to be a first-mover in a small space with little deal-flow (CRHM basically talks doctors into partnership after educating them on the benefits). It would be tough for a competitor to replicate nearly 20 years of relationships
In addition, it helps that the company has operated in various states and become familiar with specific laws associated with healthcare services. This operational experience has provided the company with a national scope of knowledge that is not easily learned. For competitors, before penetrating any particular market, there is local feet on the ground knowledge that must be acquired in terms of legal requirements, medical service reimbursement levels, and healthcare contracting. CRHM feels they understand local markets better than most, providing it with the ability to move first, and quickly.
We feel that CRHM is different from a typical medical acquisition roll-up because of their unique niche in the market they serve, as well as their cautious, conservative capital allocation approach. CRHM isnt a private equity firm looking to buy, grow and exit. They partner with these private practices for the long term, renewing all service contracts year over year and assisting GIs with growing and managing every aspect of their practice.
As long as CRHM can keep its balance sheet fairly clean, and patient volumes continue to climb, we believe that we will come out of this as winners.
Industry overview
Healthcare has been a much debated and often disliked sector for investors. Rightfully so, as it appears at times the government has a rooted interest in seeing to it that companies make as little profit as possible. Price regulation is a real risk, and the fact that a solid business can see revenues dip for factors outside of its control is enough to scare most investors away.
CRH is not exempt from the above. The company is at times subject to a variety of secular headwinds including changes in payer mix (federal versus commercial), lowered reimbursement rates, and a shift in patients toward higher deductible insurance plans.
With that said, we believe the company has a greater number of positive tailwinds at their back, including ongoing industry consolidation, an aging US population, and the favorable growth in patient volumes and procedures.
One of the most common endoscopic procedures performed today is colonoscopy, which has long been the gold standard for colorectal cancer screening and detection. This procedure is unique because it has no direct substitute, and serves as a mainstay for most GI practices across the US. Unlike surgeries or major joint repairs, GI procedures, especially colonoscopies, are not considered high ticket procedures, yet are just as necessary as many surgeries or joint repairs.
Major initiatives such as 80% by 2018 government campaign aim to increase awareness for colorectal cancer, and increase the number of adults over 50 who are regularly screened for disease. We believe the macro environment as well as government initiatives will benefit CRH nicely, giving rise to the number of procedures performed nationwide over the next few years.
Anesthesia services for endoscopic procedures is a fast-growing market, estimated to be around $19 billion. The market of providers is large and fragmented, and consists mostly of hospitals, ambulatory surgery centers (ASCs) and private practices. The company estimates that there are roughly 800 to 1000 GI specific ASCs in the US, with that number remaining flat over time. In recent years, there has been a rise in M&A activity among medical practices, and it appears as though the largest area for acquirers to provide value would be within the small GI practices segment.
CRHs investor presentation outlines some of the white-space available within the anesthesia services market, as well as favorable macro trends: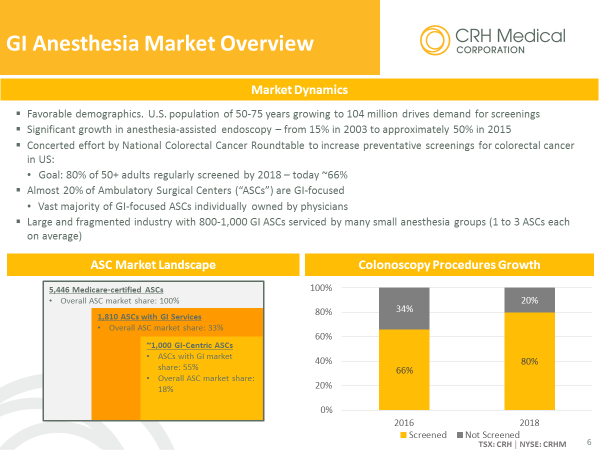 Source: Company Investor Presentation
In addition to further consolidation of the fragmented market, we believe that acquisition growth for CRH will likely be propelled by the large number of untapped GI specific ASCs, an aging population, and an increase in colonoscopy procedures in the US.
What intrigues us about the companys potential growth runway, is that the concept of joint ventures in anesthesia is a relatively new offering. The nascent growth has been promising up to this point, and clearly there remains a large market to address. According to a recent Medicare analysis regarding gastroenterology, only 50% of the nearly 25 million endoscopic procedures that take per year are performed using anesthesia.
In other words, there is plenty of room for the adoption of current trends. As CRHM taps into their network, educates GIs, and more doctors buy into the partnership idea, we see that pattern having a positive effect in terms of acquisition prospects.
As the market has begun to recognize this trend, they wont be sitting on the sidelines twirling their thumbs.
According to an article by Beckers Hospital Review:
The anesthesia industry has long been a highly fragmented market of independent groups, but the recent consolidation trends are changing that, and quickly. The nearly 100 acquisitions of anesthesia practice groups over the last five years have been the result of billions being spent by private equity firms and other major strategic players. The activity has been partially led by investment firms such as Welsh, Carson, Anderson & Stowe (U.S. Anesthesia Partners), Moelis Capital Partners (North American Partners in Anesthesia), Goldman Sachs Private Capital Investing (Resolute Anesthesia), and TPG Growth (NorthStar Anesthesia).
As mentioned above, the pivot in CRHs business model couldnt have come at a better time, as industry consolidation has become the norm, with smaller independent practices being acquired at a solid pace.
According to Franc Galinanes of North American Partners in Anesthesia:
Aggregation as a defensive measure is no stranger to medical practices. Weve seen significant consolidation in pediatrics, OB/GYN, urology, large multi-specialty groups and, now, anesthesia. Be it through a merger, joining a larger group, sale to another entity or through other methods, the paradigm is shifting away from the small independent practice towards larger cohesive anesthesia management companies and groups.
Its clear that CRHM is participating in the paradigm shift, and acquirers and consolidators throughout the industry will continue to represent a rapidly growing percentage of anesthesia care in the US. Billions of dollars will be spent moving forward to acquire anesthesia groups and gain market share, and CRHM has the luxury of sitting out most deals as they focus on their niche market.
Not everything is biscuits and gravy, however. Part of the risk with this investment stems from CMS announced reimbursement rate cuts back in April. While we believe certain details of the cuts as well as the new billing codes arent relevant to our thesis, wed like to try and explain what the company believes is happening.
From our research as well as conversations with management, we understand that CMS originally used two billing codes for anesthesia services (740 and 810). In January of 2018, most payers will scrap the old billing codes, and adopt five new codes (731, 732, 811, 812, and 813).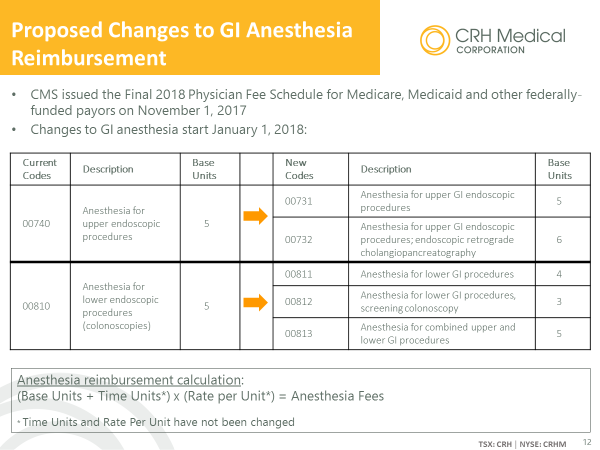 Source: Company Investor Presentation
CRH will only use code 731 for upper endoscopic procedures. For lower, they will use all three codes (811, 812, and 813).
Before shares took a dive in July, CMS had already indicated that they were going to lower the base units for code 812 (base units just represent the total dollar amount for which the payer will be billed).
However, CMS also decided to lower the base units for code 813, which came as a surprise to the company, given their prior conversations with peers, industry experts and insurance providers.
As depicted in the slide above, anesthesia fees are billed using a combination of base units, time units and rate per unit. Obviously when base units decline, less fees are collected. When the company came out to explain this, they underestimated the impact on EBITDA and margins, and the stock was punished as a result.
So without diving too much further into the details, because these billing codes will have the net effect of lowering fees the company will collect, revenue and EBITDA are going to take a hit as the new codes are adopted.
While the rate cuts will certainly have an effect on the companys revenue, EBITDA and operating margins, we feel as though the company is well-positioned to bounce back from short term declines in fundamentals. After taking some time to understand the effect that the new billing codes will have on the companys results, it appears as though the future impact of the rate cuts appears to be overblown, and it was managements poor explanation of the impact that caused shares to dive as much as they have.
While insurance reimbursement rate cuts are a real risk to the companys top line, especially if further cuts take place, remarks on the conference calls as well as our conversations with management indicate that further cuts dont appear imminent after 2018.
Based on our research as well as the US aging population statistics, we can estimate that growth industry wide over the next 3-5 years should be around 3-4%, with CRH estimating they will see somewhere in the neighborhood of 3%-5% organic growth and 7% inorganic patient volumes/procedures.
While our investment thesis is not predicated on government assistance, we see the government as having a rooted interest in continuing to encourage colonoscopy as a means of improving healthcare, as well as reducing overall cost via early diagnosis and treatment of colon cancer, putting CRH in a favorable position.
Competitors
In our opinion, the companys business strategy provides it with a few structural competitive advantages which include:
A large pipeline of existing ORegan (legacy business) customers there is trust and relationships that have been built up for a long time, which cant be acquired overnight by a competitor The company is participating in smaller deals ($1.5mm – $16mm) that wouldnt move the needle for larger acquirers, such as companies looking to buy large hospital owned practices, or private equity groups The relationships allow the company to be a first-mover in terms of new deals. If a GI is interested in implementing deep sedation into their practice, CRHM will likely be the first call Developing the Monitored Anesthesia Care development program this new MAC program will educate GIs about the use of deep sedation in endoscopic procedures, thus allowing CRHM to tap into an additional market of around 400 GI ambulatory surgery centers that currently dont practice deep sedation
Heres CEO Ed Wright during the companys Q4 conference call talking about the above:
Edward Wright
… So, we are in a very enviable position with the fact that we have got these relationships with these GI docs all over the country. The deal size is perfect for us, because these are amounts that we can transact quickly on. We will have a lot of competition as you know in these opportunities. And to-date, its a new offering. Its a new idea in many ways that we are bringing to these people.
Its no secret that most healthcare companies are up against plenty of headwinds. Tough competition, government regulation, reimbursement rate cuts and cost increases provide for a volatile environment. Anesthesia services is no exception, and the companys closest [somewhat] competitors have suffered declines in their share prices as well, with Envision Healthcare and Mednax down 52.6% and 27.3% YTD.
During our conversations with management, they had a tough time pinpointing some publicly-traded competitors, and we would agree. Although not direct comps, publicly traded companies that acquire practices and operate anesthesia services segments include Envision Healthcare, and Mednax. Additional competitors could include Sheridan Health (acquired by Envision), Team Health (acquired by Envision) and US Anesthesia Partners (private). The majority of the companys competitors include smaller privately-owned companies, hospitals and medical practices, for which size and financial data were difficult to find.
Mednax appears to be CRHs closest comp, given their acquisition model and interest in the anesthesia services space.
From a recent Modern Healthcare piece:
That buying binge is not yet over for the company [Mednax]it's got its eye on additional operations in neonatal, maternal and pediatric specialties.
The company last year sought to increase its capacity to borrow to finance future deals, the company's CEO, Dr. Roger Medel, said. Mednax borrowed an additional $750 million in December and now has access to $1.3 billion in debt to make acquisitions, he said.
Anesthesiology will remain a target for the company, which has acquired 21 anesthesiology practices in the past three years. We will continue to be one of the most active acquirers in this specialty, he said.
It would be irresponsible to try and value CRHM from a relative standpoint given its lack of true competitors. We could try to value a companys anesthesia services segment (which we have done below), but wed most likely be wrong, and these practices are so different in terms of size, demographics, payer mix and procedure volume that any comparison or valuation we come up with would be unrealistic.
Nevertheless, it may be important to look over some industry figures:
According to a recent healthcare M&A report put out by Baker-Tilly, average EV/LTM Revenue and EBITDA multiples for non-acute care acquisitions were around 1.8x and 10.5x. Non-acute includes anesthesia services companies.

Non-acute care comps from the same report outline some peer multiples (although not direct comps):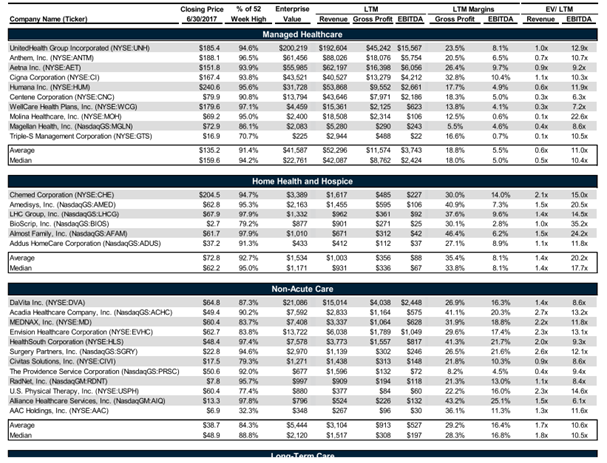 According to the above, CRHs closest comps in Envision Healthcare and Mednax trade at 13.1x and 11.8x EV/LTM EBITDA. Those figures appear a little bit higher than what we found, but the range of 10.5x 13x EV/EBITDA seems reasonable to use as a potential acquisition price. Although not pure-play anesthesia services companies, the business models share similarities, and can serve as a good starting point in terms of EBITDA and revenue multiples when conducting our valuation.

Source: Author data
It would be reasonable to say that 1.8x EV/Revenue and 10.5x EV/EBITDA would be a good place to start, and historical industry medians point to similar multiples:

Sheridan Healthcare
Sheridan Healthcare, (a wholly-owned subsidiary of Envision) leading national provider of multi-specialty outsourced physician services to hospitals, ambulatory surgery centers (ASCs) and other healthcare facilities, is the countrys number one provider of anesthesiology services and the number two provider of childrens services, with strong operations in radiology and emergency medicine services as well
Sheridan Health was acquired by AmSurg in 2014 for $2.35 billion. Revenues for Sheridan that year were expected to be $1.1 billion for the year. It appears they were acquired for around 2x sales.
According to Envisions 2016 Annual Report, Sheridan contributed $824.8mm in revenues, and $100mm in operating income for the y/e 2016.
Envision Healthcare
Envision Healthcare is a $3.6B company, that operates three segments, including physician services, ambulatory services and medical transportation. Physician services represent 60% of revenue, and 58% of the companys EBITDA, but segments are not broken down further, which makes it difficult to value the companys anesthesia arm.
As of 2016, the company made 8 acquisitions of anesthesia practices. Anesthesia services within the companys physician services segment represent 29% of the segments revenues, and the company oversaw 2.4 million anesthesia cases in 2016. Ambulatory services (where GI procedures are conducted and managed) represent 34% of revenue, and 38% of the companys EBITDA. These numbers dwarf CRHs, yet the two companies operate in different arenas, and with different business models.
Similar to CRH, EVHC partners with practices (usually 51% stake) and operates the facilities and manages the care. Different from CRH however, is that EVHC acquires, builds and owns the ASCs in which they operate, adding a huge layer of increased costs and complexity.
TeamHealth Holdings
Team Health Holdings, now private, was acquired by Blackstone in 2016 for $6.1 billion. THH was acquired for $43.50 per share, a 33% premium to its most recent price at the time of $29/share.
TeamHealth offers outsourced emergency medicine, hospital medicine, critical care, anesthesiology, orthopedic hospitalist, acute care surgery, obstetrics and gynecology hospitalist, ambulatory care, post-acute care and medical call center solutions to approximately 3,400 acute and post-acute facilities and physician groups nationwide.
Searches of the TeamHealth IR site did not reveal financial information past 2013, but according to the most recent data we could find, for the year ended 2016, TeamHealth did $3.6 billion in sales, with $345 million in EBITDA and $236 million in operating income.
Based on the acquisition price of $43.50/share, and enterprise value of $5.5 billion at the time of acquisition, TeamHealth was purchased at a 16x EV/EBITDA multiple, as well as 1.5x EV/revenue.
These M&A multiples, though not directly comparable, are both in line and above what we found via market research studies and our own due diligence.
US Anesthesia Partners
U.S. Anesthesia Partners, Inc. is a private, single-specialty physician services organization that provides practice management services to anesthesiologists in the United States.
According to Moodys, revenues for USAP exceed $1 billion. The company is 56% owned by approximately 1,000 physician partners and management, and 44% owned by financial investors Welsh Carson Anderson & Stowe.
Mednax
Mednax is the closest comp we could find as a company participating in the anesthesia acquisition space. Mednax derives 36% of their $3.3B+ in revenues from anesthesia, but with an EV of $5.9B, is a much larger company with more than one operational focus. Mednax currently trades at 9.8x EV/EBITDA, and did $600m in EBITDA for the trailing twelve months.
Given that 36% of revenue comes from anesthesia services, and assuming segment level EBITDA margins are similar to total EBITDA margins (17% – 20%), that would get us to $216 in EBITDA roughly for the anesthesia segment. Applying a similar but more conservative 8.5x EBITDA multiple would get us to an enterprise value of $1.7B for anesthesia (not exactly precise).
CRH does about a quarter of the EBITDA of Mednax anesthesia segment, coming in at around $32mm (to shareholders) for the TTM. Applying the same 8.5x multiple to the companys growing (90% EBITDA CAGR over the last two years, 184% over the last three) EBITDA would get us to a value of around $270mm. Divide by 75.7m shares outstanding and we are left with a price of around $3.50/share.
Although these comparisons are crude and most likely unrealistic, we felt it important to dig into some comps and try to find a fair valuation. We dont feel like we have succeeded, other than pointing out if CRH was to be taken private, or acquired by private equity or a larger healthcare company, shares would be priced at a much higher premium than where they trade today. Our investment thesis is not predicated on a potential acquisition.
Management information
At CRHM, we have an experienced management team made up of CEO Edward Wright, CFO Richard Bear, and Anesthesia President Jay Kreger.
Tony Holler, (the companys Chairman, in a non-operational role) was previously the founder of ID Biomedical Corp, a company that develops and markets vaccine products, which was sold to GlaxoSmithKline for just under $2 billion in 2005. Armed with a previous relationship with Edward Wright, Holler persuaded him to leave Cartier in order to help CRHM build clinics and acquire patients for the ORegan System. Holler hired Wright for his know-how in scaling a retail brand as well as his relationship-building ability.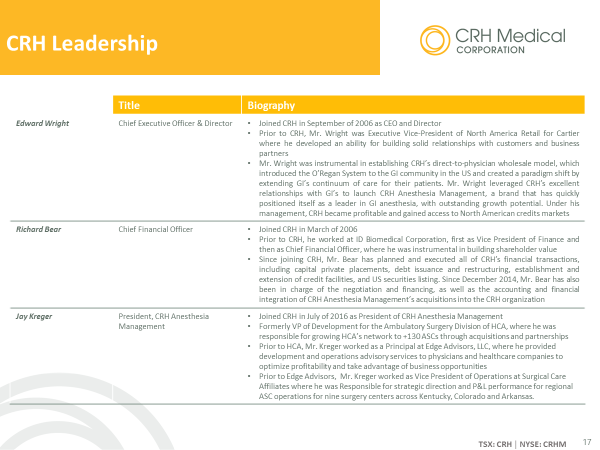 Source: Company Investor Presentation
Before joining CRHM, CEO Edward Wright spent the majority of his career in the luxury goods business, where he worked with Baume and Mercier in the 1990s, and served as the Senior VP of retail for Cartiers North American segment until 2006.
Given Ed Wrights background, we wondered how (and why) an experienced and accomplished CEO working for one of the most prestigious brands in luxury goods and retail would make the jump to the ugly, regulated world of healthcare services?
According to a Business Vancouver piece:
For Wright, building a luxury brand and building a network of trained gastroenterologists boils down to the same thing: customer service.
"I spent 20 years building a successful career in the luxury goods industry. During that time, I was based in Vancouver, Toronto and New York. Tony was looking to build a strong board and management team to take this product forward.
I grew up here, and I had the desire to move back here with my wife and young children. I had a desire for more of a balance between my personal life and my professional life. I knew Tony Holler and Dean Linden [members of the CRH team], and CRH was in its infancy.
We like the fact that management seems rational, and states during multiple conference calls that they are not interested in just piling on medical practices via acquisition. They have purchase criteria (outlined above) and if it is not met, they have stated they will walk away.
The businesses they have acquired thus far have been highly accretive, helping to increase revenues, EBITDA and free cash flow per share, and although the company has issued some equity to the acquired businesses, we like the fact that these GIs now have some skin in the game, and are tied to the success of the company, with one of the acquisition criteria being that the GI doc of the acquired practice has to stay on and operate the ASC post-acquisition. We find this a nice hedge to a doctor cashing out of their business and letting the service deteriorate as they hit the golf course.
There remains an earn-out obligation in the form of long-term debt on the companys balance sheet, with the cash distribution paid to non-controlling interests in the range of 37% – 40% of free cash flow. We will monitor this situation closely, but as long as the percentage of free cash flow paid out as distributions to non-controlling interest stays in the 37-42% range, the companys free cash flow [to shareholders] growth will continue to positively build, and shares will become even more undervalued.
While we would prefer true owner operators running the business, management owns around 8% of shares outstanding (increasing after the buyback), and the bulk of their compensation comes in the form of share units, which move in lockstep with the price of the companys stock. While this isnt a perfect scenario and management is paid very well for a company with an EV of $248mm, we like the fact that the board prefers to issue share units as opposed to option compensation.
We would be interested in seeing management scoop up some shares soon, especially at these depressed levels, but after our conversations with the group, they see a more prudent use of funds being their acquisition pipeline which they feel confident remains very strong (since we wrote this, the board has approved a buyback program of 10% of shares outstanding via normal course issuer bid, starting 11/20/17).
If shares remain at current levels through the next 12-18 months, and the company continues to make acquisitions and grow revenues/free cash flow, the buyback will be very accretive to shareholders.
CEO Edward Wright has largely been successful to date, having pivoted the companys retail business model in the early 2000s, to a direct-to-physician model with the companys product sales, and then again in 2014 to the model of acquisition and operation of anesthesia practices. Since Edward Wright joined CRH, the company has gone from generating negative $4 million EBITDA to $47mm in EBITDA for the trailing twelve months.
Revenues have grown from$3.25m to $93m in that same timeframe, and the company has since trained 2,620 GI physicians to use their product, representing 1,011 medical practices as of Q3 2017, and the future source of most of their acquisition pipeline.
As a result of the above, free cash flow has gone from $0.05/share in 2014 to $0.50/share for the trailing twelve months, a three-year CAGR of 115%. Its been an impressive few years.
During the last few years, management has done a solid job of beefing up investor relations efforts, holding quarterly conference calls (earliest only date back to 2015), and participating in non-deal roadshows to educate the industry about the business model and large runway for growth that lies ahead.
In addition, CRH hired Jay Kreger in July 2016 to head up the newly created role of President of Anesthesia Management. Jay will be responsible for leading expansion and acquisition opportunities and ensuring operational excellence across the country.
Its early, but so far, weve been impressed with the communication from Jay, and how he conducts himself during the companys conference calls. He has been very enthusiastic about the companys acquisitions to date, large pipeline to make more meaningful buys, and the value that CRH adds to GI practices.
A less important point, but we also appreciate managements approach to cutting unprofitable strategies, and focusing on what works for the business, such as during the financial crisis when businesses far and wide were forced to re-evaluate their strategies and cost structures.
While management does offer some guidance as it relates to revenue per case, EBITDA margins and patient volume growth, their somewhat unconventional approach not focused on GAAP numbers, little earnings guidance, holding a small cash balance are what we believe drives some of the misunderstanding by analysts and the market.
As long as management remains focused on accretive acquisitions, keeping debt levels conservative, and growing free cash flow per share, we believe that investors will emerge as winners.
Compensation and incentive Structure
It was important for us to take a hard look at the incentive structure put in place for management, compensation packages, and how salaries have changed in recent years since the company transitioned their business model to acquisition based. Acquisition type of business models dont always incentivize the most shareholder friendly behavior. Although certainly not perfect, we feel that CRH compensation structure helps in some ways to align management with investors.
From the companys proxy:
The Companys current executive compensation program is comprised of the following three components: (i) base salary; (ii) short-term non-equity incentive compensation, consisting of a cash bonus linked to both individual and corporate performance; and (iii) long-term equity compensation, consisting of the Companys Stock Option Plan and Share Unit Plan (both as defined herein) established for the benefit of its directors, executive officers, employees and service providers.
Although no specific targets have been laid out, performance metrics seem to be tied to revenue, cash flow, net income and market cap growth.
The Compensation Committee also takes into consideration the fulfillment of the corporate objectives of the Company including but not limited to revenue growth, cash flow, net income (loss) and the market value of the Company, as well as the individual performance of the executive.
Total management compensation for CEO and CFO has skyrocketed over the last three years, with the majority of the increase stemming from additional share-based awards. CEO compensation of $4m for 2016, in a company that does $100m in very high, yet we view the increase as warranted, given the meteoric rise in total revenues, adjusted EBITDA and free cash flow per share.
Our biggest gripe with CEO Ed Wright would be the amount of shares he currently owns relative to his salary (120,000). Although he has been awarded 3.5mm share units, wed like to see this percentage of outstanding shares owned by Wright increase in the coming years. Of note, his percentage of equity owned has increased ten-fold since 2014, yet still represents less than 1% of shares outstanding, before factoring in options and share units.
Each share unit awarded conditionally entitles management to receive one Common Share upon attainment of the share unit vesting criteria.
Share units vest on time or performance based conditions, and management is able to receive the equivalent number of common shares as share units possessed. Currently, the amount of shares set aside for issuance under the Share Unit plan is 9.5 million, representing 13% of shares outstanding. The total amount set aside for issuance is capped at 15% of total shares outstanding. That number is further capped at 10% for insiders, total, and over any one-year period.
Excluding shares held for options and share units, and assuming a 10% buyback of shares outstanding, management owns nearly 5% of the company. Taking into account both common shares owned, and shares held under options and share units incentive compensation), management as a group owns just under 9% of the company, a number that gives us confidence management decision making and capital allocation will be done in the interest of increasing the companys per share value.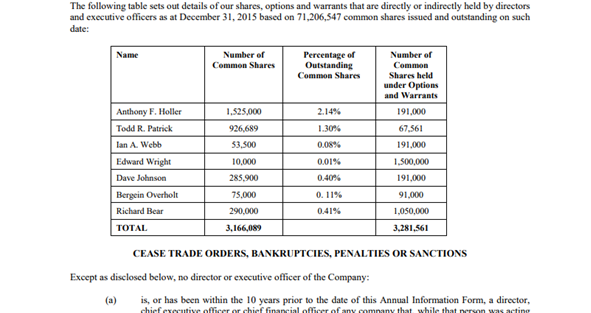 Source: 2016 Annual Information Form
Although we view total compensation as below average, a positive note is that the majority of the increase has come from share based awards (share units) as opposed to additional stock options, which serves to better align management with shareholders, given the longer vesting period and tracking characteristics (to the share price) that share units possess. We like the boards view of share units versus issuing options.
From the proxy:
The Board has been emphasizing the use of SUs issued under the Existing Share Unit Plan, as opposed to stock options issued under the Option Plan, as part of the Companys overall executive compensation plan. Since the value of SUs increases or decreases with the price of the Common Shares, SUs reflect a philosophy of aligning the interests of executives with those of the Shareholders by tying compensation to share price performance.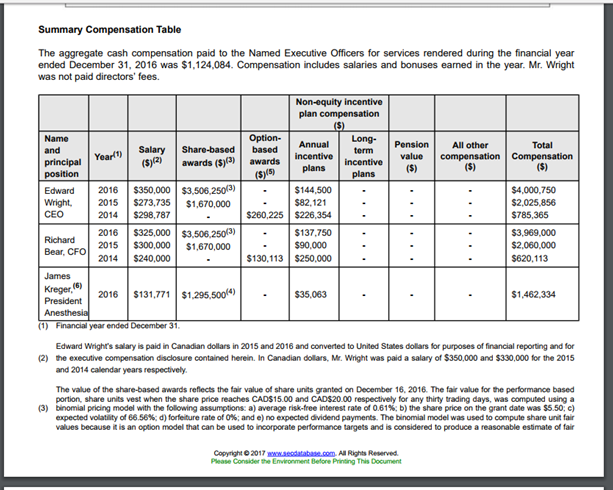 Although we view management compensation as below average, to date, the group has done nothing to indicate that they are not fully aligned with the companys shareholders. Managements prudent use of debt, acquisition discipline, and capital allocation decisions indicate that this group is in it for the long term.
Capital structure and liquidity
CRHM has just under 8% of its market cap in cash through the most recent quarter, with $10.4mm in the bank. Working capital was $13.1mm, and the company is more than able to meet their short-term obligations, having generated nearly $50mm in TTM EBITDA, with around $4 $6mm in finance/interest expenses per year. Total debt/EBITDA remains at a healthy 1.6x, well below the companys debt covenant ratios of 2.75 : 1.
The company has a revolving credit facility with the Bank of Nova Scotia (and more recently JP Morgan), having started with $33 million in 2015, increasing to $55 million in 2016, and as of June 2017 the facility was amended to provide $100 million. $64.2mm is outstanding on the facility, and the company pays a much more attractive interest rate at LIBOR plus 2.5% than their previous borrowings provided. Quarterly principal payments come out to around $625,000.
We view the companys debt as much improved from just a few years ago, when CRH was struggling with a legacy business, and had little in the way of revenue growth or book value. Before making their first acquisition in 2014, the company entered into a subordinated note agreement with Crown Capital Fund III Management to borrow $19.9 USD at an interest rate of 12% (!). in addition to the debt funding, the company paid Crown a fee of $1.35mm, as well as issued 2,000,000 shares of stock as compensation. In other words, they were robbed.
As the companys anesthesia acquisition model began to work, they were able to raise more favorable debt in the form of the Scotia Facility, and repaid in full the principal from the Crown Note in June of 2017. In conjunction with the amended Scotia Facility as well as the repayment of the Crown Note, the company recorded a finance expense of $2.04mm, which we view as a one-time non-recurring charge.
According to the most recent Q3 10-Q, the company expects that cash interest payments will be less than costs incurred historically due to the extinguishment of old debt and the amendment of their current credit facility. This expectation was reflected in the Q3 results as the company incurred $270,000 of interest expense in the quarter versus $1.1mm in Q3 2016.
The $100mm amended facility has a maturity date of June 2020, providing a long-runway for the company to execute and for the business model to mature as management acquires more practices. CRH is required to maintain the following covenants in association with the credit facility:
Total funded debt ratio of 2.75 : 1 Fixed charge coverage ratio of 1.15 : 1
As of Q3 2017, CRH is in compliance with all covenants.
At the current share price of $1.85 and 74.1m shares outstanding, the company has a market cap of $137 million. Assuming management buys back 10% of shares outstanding (7.4m based on recent board approved buyback plan), the market cap would drop to $122m ($1.85 x 66m shares outstanding). The company has $64 million in debt, over $10m in cash for $54 million in net debt, giving us an enterprise value of $176m. Adding in the portion of equity belonging to non-controlling interest of $54.7m (and using the assumed 10% buyback market cap), we arrive at an enterprise value of $233.4m.
Assuming adjusted EBITDA comes in at around $38m for FY 2018 (assuming full 20% decline from reimbursement rate cuts), and then around $45-$50m by 2019, debt levels will be below 1.7x 2018 adjusted EBITDA, and less than 30% of EV. We expect the company to take on additional debt heading into 2018 and 2019, taking full advantage of their cheap credit facility and tapping into another $30-$33m or so for acquisitions per the companys guidance. Debt levels may rise to above 2.0x EBITDA in the short term, but as reimbursement rate cuts settle, and adjusted EBITDA maintains its 20%+ CAGR, those numbers will be reduced heading into 2020.
As mentioned above, the company recently initiated a 10% buyback program (via NCIB) starting 11/20/17, which will be very accretive for shareholders at the current share price.
Valuation
As of November 1, 2017, there were 75.7 million fully diluted shares outstanding, including options and share units.
CRH defines free cash flow as cash from operating activities less finance expense, acquisition expenses and distributions to non-controlling interest. We defined it differently for our valuation purposes.
Our free cash flow calculation assumes net income + D&A, minus capex, changes in working capital, and distributions to non-controlling interests. We have NOT added back income tax expense, stock based compensation, or finance expenses, which we leave out of adjustments to net income in our cash from operations calculation. We want to be very conservative, and while its possible that we could add back income tax recoveries, we are leaving those out as of now.
CRH generated $0.31/share of free cash flow to shareholders for the trailing twelve months, which includes distributions to non-controlling interest. Given the companys competitive position, stable cash flows, mid to high teens ROIC, and 20%+ adjusted EBITDA growth rates for anesthesia services, a 10x multiple for the entire business does not seem unreasonable.
Using that multiple, shares should trade around $3.10 today, before factoring in additional acquisitions, incremental returns on invested capital, and our estimates of normalized 2019 and 2020 free cash flow.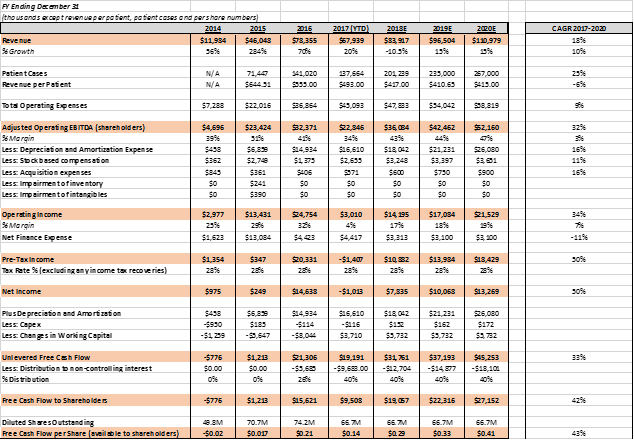 Source: Author data
Note: Our adjusted operating EBITDA attributable to shareholders, and thus operating income is subject to change, given that 2017 numbers are YTD, as opposed to FY ended. Q4 numbers should come in much higher than currently modeled, and thus growth assumptions will likely be higher as well.
Arriving at a 2020 estimate of $0.41/share of free cash flow to shareholders (a number we feel is very conservative), and applying an 8.5x 10x multiple, shares should trade in the range of $3.50 – $4.10 within 12-18 months.
Management to date has not provided earnings or free cash flow guidance, or assistance in determining future patient volume, revenue per patient, or EBITDA numbers. There are significant estimates required in calculating many of those numbers given the fact that patient volumes fluctuate, and the nature and timing of acquisitions can cause many of the key numbers to differ quarter over quarter.
We like the capex light nature of the business (once practices are acquired, little additional capital investment is needed), and the ability for CRH to earn mid-to-high teens return on invested capital (excluding goodwill). Factoring in goodwill as a part of invested capital a practice we believe to be the way to go here ROIC levels should hover around the 8%-10% range moving forward.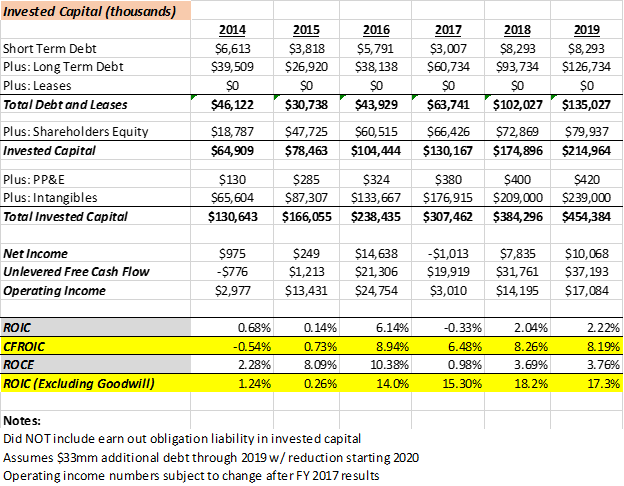 Source: Author data
From an M&A (buyout) or EBITDA multiple standpoint, we feel that in a recession or bear market scenario, EBITDA multiples should hold above 6x, given additional acquisitions, increases in patient volumes (colonoscopies and endoscopic procedures are still necessary to get, and shouldnt be put off) and revenue growth rates. Applying the 6x multiple to our estimate of 2019 EBITDA attributable to shareholders of $40.5mm gets us to an EV of $243mm.
Adding in our projected net debt of $110,000 ($33 million additional over the next two years, less $10m cash balance) gets us to a total EV of $353mm. Dividing enterprise value by 66.6m shares outstanding (after the 10% buyback) gets us to a per share value of above $5.00, or 160% premium from todays prices.

Source: Author data
Our 2020 estimates look similar, with our bear case scenario at our bear case multiple still producing an estimated share price of above $5.00. If we were to cut our EBITDA estimates IN HALF, our bear case scenario share price based on a 6x EBITDA multiple of $20.25mm (a number that was generated YTD 2017) we would still end up with a share price of $3.60 in 2020 (assuming no change in share count). Once again, we feel like we have a tremendous margin of safety at current price levels.

Source: Author data
We believe there are multiple w